Kristina Dimitrievski is a first-generation Macedonian-Canadian born and raised in Toronto, currently living and working in Washington, D.C. 
Growing up in the Macedonian community in Toronto, Kristina has always been dedicated to giving back to the Motherland. Through volunteer roles at St. Clement of Ohrid Macedonian Orthodox Cathedral and on numerous Boards of nonprofit organizations benefitting Macedonia, Kristina has actively geared her focus to the youth. One of her passions has always been to help Macedonian youth all over the globe reach their highest potential and professional goals, whatever they may be, and assist them in tying their achievements back to Macedonia to help the Republic move forward.
Mary Outow was born in Macedonia and came to Canada as a young girl, settling in Toronto. Involvement in the Macedonian community has always been very important to her and she now spends much of her time as a volunteer with several Macedonian non-profit organizations.
Supporting youth of Macedonian heritage in the diaspora is her focus and as a retired school administrator, she continues to be interested in education. Mary believes that education is the key to success as individuals and as contributing members in a global society. She is excited to support and join the Nova Generation Team.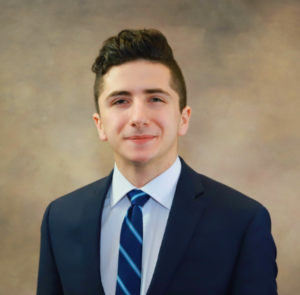 Luka Petrusevski is a law student studying at Western University. He is a first-generation Macedonian-Canadian immigrant, raised in Windsor, Ontario.
Luka's strong ties to Macedonian culture and the diaspora have led to an ever-growing passion to give back to his community and homeland. Always open to volunteering his time, he joins the board following success with various non-profit organizations benefiting Macedonia and is excited to be a part of Nova Generation. He understands the difficulty that many Macedonian immigrants face in pursuing their passions in Canada and hopes to aid in the cross-generational transition that many Macedonian families experience.
Luka's goal is to help the Macedonian youth realize that their cultural identity and heritage are strengths that can help them pave the way for educational and professional success.
"I've learned that you shouldn't go through life with a catcher's mitt on both hands; you need to be able to throw something back."

Maya Angelou